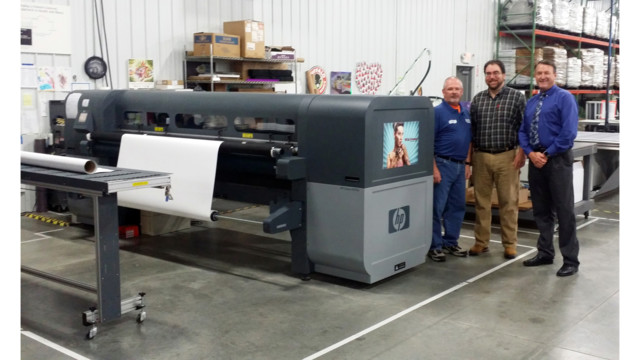 Think Patented, calls the company "A Marketing Execution Company." While printing has been their core business since founded as Patented Printing in 1979, they have reinvented themselves into a full-service communications provider across multiple channels.
"Think Patented has always been a place where creative, experienced solutions are fostered and created. The client has a need or a simple curiosity. We engage and solve," says Christopher Charles, Director of Wide-format and Digital Packaging – Think Patented.
Opportunities to serve Think Patented's core customer base with additional offerings was enhanced with the addition of wide format inkjet printing. "Our client's world has changed and the ability to get all of their needs from one trusted vendor, is attractive," says Charles. "Having all of the resources to offer, makes for a compelling value proposition when trying to break into new businesses or markets. There are not very many needs in the Marketing continuum that we cannot produce. Thus, better conversion from prospect to client."
With all the potential sources to assist Think Patented, they chose to work with PriscoDigital (Booth 3607). Working with the staff, PriscoDigital's team of workflow specialists made suggestions that would best fit the needs of their operation.
The wide format systems include an HP  (Booth 1202) Scitex FB700 Inkjet Press, HP Latex 360 Inkjet Printer, Esko Kongsberg XN24 Digital Finishing System, Caldera Grand RIP+, and various Keencut finishing equipment from Foster.
Charles was very clear about the decision to acquire the various systems. "The HP Scitex FB700 was the best decision for us because we had such a large gamut of product types we were purchasing from the outside. This device can handle flexible and rigid products within a modest footprint." The HP Latex 360 came later. "We had a need for a dedicated roll only option that needed to be easy to operate and virtually run unattended while one operator performs up to five operations at any given time. We needed efficiency; it's the only way to be competitive and profitable."
A RIP solution was needed that could drive not only multiple printing devices but cutters as well. The ideal choice for Think Patented was the Caldera Grand RIP+. Charles reports that the choice of a RIP took longer. He had experience with other RIPs but chose Caldera after extensive research and hands-on experiences because, "the graphic interface was easy for my operators to navigate and it meshed very well with our internal existing workflows."
A key to wide format inkjet production is finishing. The Esko Kongsberg XN24 table was an easy decision. The pre-press tools, multifunctional tool head, and an intercooled milling head allowed them to cut materials faster and more accurately at full speeds, especially composite materials.
For manual cutting operations, Think Patented chose the Keencut Evolution-E2 and Keencut SteelTrak.
He went on to say, "PriscoDigital and their application specialists allow me to use my creativity and manufacturing experiences to come up with some very unique and custom problem solvers for my customers. Of course, there is also the factor of 'that is so cool, how did you do that', continuously pushing my department to new areas of development."