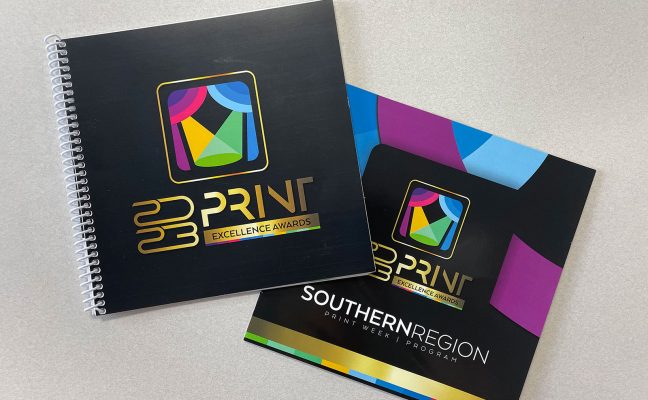 Think Patented is proud to announce it was awarded nineteen Print Excellence Awards from Graphic Media Alliance and the most Gold awards of any participant.
On March 2, 2023, Think Patented was awarded:
9 Gold Awards
2 Silver Awards
8 Bronze Awards
"This recognition is a testament to the hard work and dedication of our employees who strive to provide the highest quality service for our customers. We remain committed to pushing the boundaries of innovation and providing exceptional customer experiences. Our employees take great care to ensure each project is done with attention to detail and a commitment to excellence. We are proud of the recognition and proud to continue to perform for our customers. Thank you to all those who have contributed to our success." David McNerney, President of Think Patented
Each year, Graphic Media Alliance holds its Print Excellence Awards competition to recognize Ohio, Michigan, and northern Kentucky printers who have demonstrated printing excellence in 36 categories. This year's judges, Greg Jovanovic (ColorArt, Eureka, MO.) and Jeff Ekstein (Willow Printing Group, Ontario, Canada), made for an outstanding duo as each entry underwent careful review and deliberation. Both judges were highly impressed with the quality demonstrated in this year's contest and look forward to participating in the 2024 competition.
Graphic Media Alliance President, Andrew Schall, stated "The Print Excellence Awards showcases our finest offerings in Ohio, Michigan, and N. Kentucky, and this year did not disappoint. As demonstrated in this year's contest, our members continue to innovate, ensuring a bright future for our industry and our Association."
Think Patented, headquartered in Miamisburg, OH, is redefining what a printing company is. Think Patented is MORE Than Just Printing, by offering innovative solutions and services to clients worldwide like Omni Channel Marketing, pURLs, Mobile Marketing, Web-to-Print Solutions, Fulfillment and Kit-packing Services, Direct Mail, Wide-Format Printing, Design Services, and Promotional Products, all under one roof.
Graphic Media Alliance serves almost 300 commercial printing companies and suppliers to the industry in its service area. GMA provides a broad range of products and services to its membership, including workers' compensation and product discounts. Graphic Media Alliance is an affiliate partner of more than 20 industry associations across the country. For complete information on Graphic Media Alliance, please visit www.graphicmedia.org.