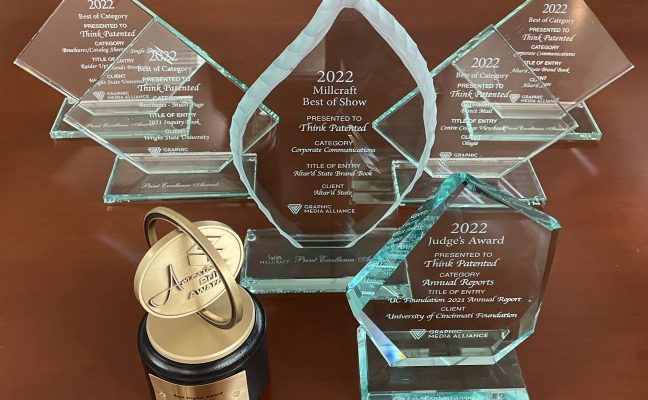 Think Patented took top honors for print quality at the inaugural 2022 Americas Print Awards national competition. The top winning entries from the regional competition were entered in the association-wide competition for Best of Category and Best of Show prizes awarded in August 2022 at the Grand Ceremony, sponsored by Millcraft.
Think Patented won the following awards:
BEST OF SHOW
BEST DIGITAL AWARD
Judges Award
Best of Corporate Communications
Best of Brochures Multi-page
Best of Direct Mail
Best of Brochure/Catalog Sheet – Single Sheet
"It's an honor and a bit humbling to be so highly recognized in so many categories. This is a validation for all our employees who work hard to make sure Think Patented is a leader when it comes to color, quality, and overall production."
David McNerney, President
Eleven participating associations within the Americas Printing Association Network (APAN) sent their top 15 winning entries from their competitions to the Printing Industries of New England (PINE), where the judging took place. These "best of the best" pieces from the regional competition went head-to-head in the national competition, and the work was judged by three national printing experts with over 90 years of cumulative experience. The judges were chosen from a pool of like individuals that have either owned, operated, or managed a printing facility.
"I was proud to host the first national print competition on behalf of my peers in APAN. It was impressive to see the amazing work of our members from across the country displayed here at PINE," said Christine Hagopian, PINE President. "The judges were blown away by the quality of the work submitted by our APAN members, using phrases like print magic and wizardry combined and the natural imagery in this piece of perfection."
Think Patented, headquartered in Miamisburg, OH is redefining what a Printing company is.  Offering services to clients worldwide with Printing, One2One Marketing, pURLs, mobile marketing, Web-to-Print solutions, Fulfillment services, Direct Mail, Wide-Format printing, Design Services, and Promotional Products, all under one roof.  Please visit: www.thinkpatented.com
Graphic Media Alliance serves over 300 commercial printing companies and suppliers to the industry in its service area. The association provides a broad range of products and services to its membership, including workers' compensation and product discounts. Graphic Media Alliance is an affiliate of the national Printing Industries of America, the largest graphic arts association in the world. For complete information on Graphic Media Alliance and Printing Industries of America, please visit www.graphicmedia.org.