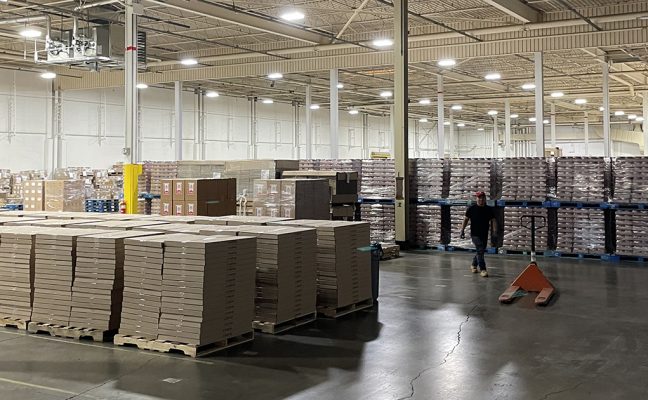 Miamisburg, OH, December 2, 2022: Think Patented, announces the addition of a 43,000 sq ft kit-packing center, officially opening December 2, 2022. Strategically located right off I-75 and I-275, this new facility will be the hub for Think Patented's kit-packing operations. The new facility will increase capacity, and flexibility to meet our customers' needs. Immediately, this facility will employ 10 to 15 associates and will likely increase based on demand.
This expansion is a logical step for Think Patented, as kit-packing and fulfillment services naturally complement all our other services and will meet the growing demand of our current customers as well as new business opportunities. Moving our kit-packing to this new location will free up space and provide flexibility in the Miamisburg facility. Both will continue to create a positive work environment for our associates.
"We know we must constantly exceed our customers' expectations and bring more value that makes sense, which is why I am thrilled to announce that we've added 43,000 sq ft of space dedicated to kit-packing," said David McNerney, President of Think Patented. "I am excited for what the future holds for Think Patented, our clients, and our employees."
From building a new high-bay fulfillment center to fulfill online orders in Miamisburg (2020) to this newest addition for kit-packing, Think Patented continues to modernize and expand services as customers' needs evolve. We're on an exciting journey and it's amazingly rewarding to see our associates and customers reap the benefits. We're proud of our commitment to earn the trust of our customers, and we'll never stop innovating to keep it.
Think Patented, headquartered in Miamisburg, OH, is redefining what a printing company is. Offering services to clients worldwide with Printing, One2One Marketing, pURLs, Mobile Marketing, Web-to-Print Solutions, Fulfillment & Kit-Packing Services, Direct Mail, Wide-Format Printing, Design Services, and Promotional Products, all under one roof and one workflow.
To learn more about Think Patented's expansion, other services or capabilities, visit www.thinkpatented.com/contact.