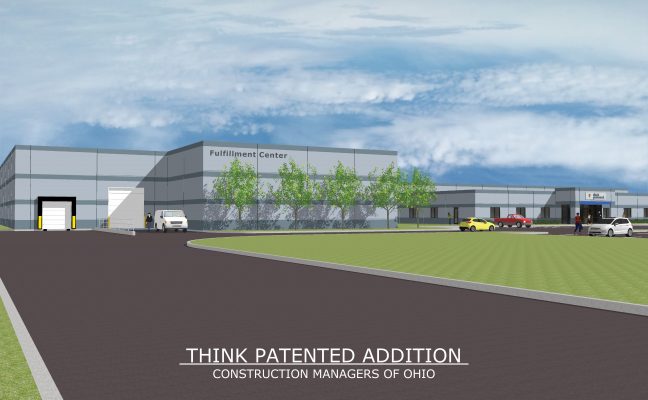 By John Bush  –  Senior Reporter, Dayton Business Journal
The Dayton area's largest printing company is getting even bigger with the construction of a new addition to its main facility. The project will lead to more hires.
Think Patented, a printing and marketing execution company, has finalized a new construction contract for the addition of a 47,000-square-foot fulfillment center. The new center will be located next to the company's headquarters at 2490 CrossPointe Drive in Miamisburg.
The high-bay, narrow-isle fulfillment center, which will be climate and humidity controlled, will break ground later this month, and is expected to be ready for occupancy in fall 2021. Miamisburg-based Construction Managers of Ohio has been hired to build the new facility.
The new center will consolidate all of the company's warehousing, fulfillment, kit packing and print-on-demand services under one roof. It will also create three to five new jobs for Think Patented.
"Fulfillment is a growth area for us," Think Patented Chairman and Managing Partner Niels Winther said. "An efficient, climate controlled environment will help us attract new clients — locally and nationally."
Think Patented CEO and Managing Partner Ken McNerney said previously that all internal warehousing for fulfillment and distribution will be moved into this facility, and the open area made available by this consolidation will free up space for additional production.
"The capabilities we've combined in one central location is attractive to customers," McNerney stated in a recent email to the Dayton Business Journal. "Leveraging these capabilities and our central location has allowed us to secure several new long term contracts for print-on-demand, kit packing and fulfillment, from large national organizations."
"We are optimistic about the future," Winther stated. "2020 was a tough Covid year, but we used the time to double down on business development and solution selling, and the building addition is a clear indication of our success in developing new relationships and securing new business."
The new fulfillment center is the latest addition to Think Patented's growing business, which is also expanding its warehousing footprint and investing millions of dollars into new technology.
In October, DBJ reported the company was is in the process of installing a $2 million digital press from Hewlett-Packard Co. The machine, called the HP Indigo 100K, is a 29-inch carbon-neutral digital press capable of color calibrating while printing. It's the first press in HP's new Series 5 platform and is engineered to deliver more than 1 million B2 duplex sheets per month.
The power of next-generation technology provided a significant boost for Think Patented, which recently inked contracts with two national organizations to distribute materials for their employees, offices and customers across the U.S.
In addition, the company recently snapped up 40,000 square feet of warehousing and distribution space at 1355 Nicholas Road in Edgemont — about eight miles north of its Miamisburg headquarters. The added space more than doubled Think Patented's off-site warehousing footprint. The company is moving about 17,000 square feet of existing storage from smaller facilities into the new building.
To staff the new facility, Think Patented is adding between six and 10 second- and third-shift employees covering a wide cross-section of needs, including customer service, project management, fulfillment, shipping and distribution roles. The company currently employs around 130 people in the region.
Founded in 1979, Think Patented bills itself as a marketing execution company that blends the latest printing technology with a broad range of personalized services. The organization is the largest printing company in the Dayton region based on the number of local employees, according to DBJ research. Its 2019 revenue was $22.5 million.