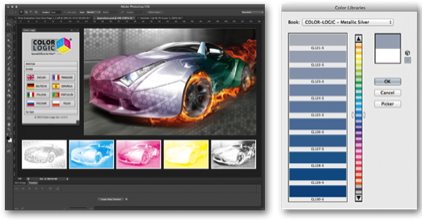 Think Patented is a Color-Logic Certified Printer. So what is Color-Logic? Take a quick read below and then watch the short video to find out.
Color-Logic is the leader in decorative and reflective color communications system – Their flagship product, the Process Metallic Color System™, empowers designers, provides a Brand with shelf impact at a fraction of the cost typically associated with metallic printing, and provides printers and convertors with an accurate color communication system for metallic ink printing as well as being the worlds first color communication system for printing on to foil and reflective substrates, when using white ink and CMYK.
Color-Logic's Key benefits
Economical – an affordable means of differentiating brands in the marketplace
Faster Time to market – products and marketing collateral produced without trial and error
250 NEW metallic colors – Using only five inks – White plus CMYK or Silver plus CMYK
Proven color system for foil substrates, silver ink, and other decorative media
Education and Training for designers to create decorative effects and metallic colors in print.
No major capital expense – Printers and converters can print Color-Logic on their current presses
Adaptive – Adapts to future substrates, inks, and coatings
Mark Geeves, Director of Sales & Marketing for Color-Logic, discussing Color-Logic.