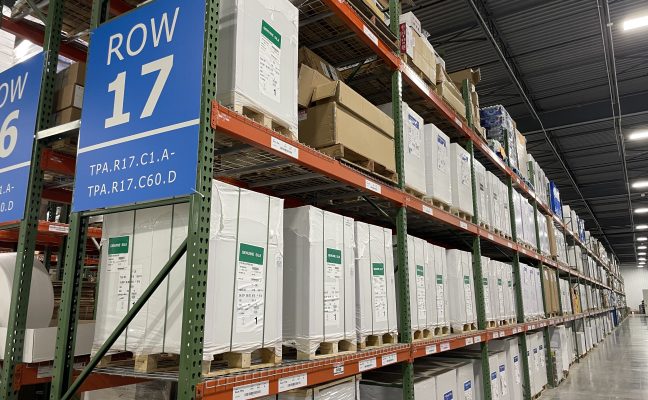 Most businesses understand how outsourced fulfillment eliminates the capital investment, overhead, headcount, and personnel retention issues of maintaining internal fulfillment operations. In-house operations also limit growth opportunities due to a physical facility that oftentimes is outgrown. With staffing shortages and supply chain issues, outsourcing fulfillment has become an even more obvious solution for many businesses.
Both regional and national businesses are recognizing the cost savings and improved turnaround time when fulfillment services are outsourced to professionals. Services provided by fulfillment centers include warehousing, kit packing, print-on-demand services, and third-party logistics. These services are needed by most businesses and can add value to your business from an on-time, accurate fulfillment services. This perceived value supports your branding efforts by giving customers confidence and trust in doing business with your company.
Currently, the continuing pandemic has driven people to work, shop, and play at home. The need for e-commerce support to comply with product delivery requirements increases the use of outsourced fulfillment resources to keep up with demand. Let's not forget the impact of supply chain issues on most businesses. Warehousing raw materials and products became a necessity for most businesses driven by the pandemic. To ensure businesses can continue manufacturing unabated and/or fulfill buyers' requirements for purchases, many have turned to outsourced warehousing and fulfillment services.
Let's look at some statistics related to outsourced fulfillment. According to Recharge Payments, 2020 recorded a 90% growth in subscription programs compared with 2019. While market growth has slowed somewhat with the reopening of physical retail stores, e-commerce continues to be an acceptable alternative or complement to physical stores. GfK's FutureBuy survey found that 22% of consumers are likely to continue using e-commerce services, which is 7% higher than in 2020. This figure increases to 34% for millennials, who now have the strongest purchasing power of any age group.
Direct-to-consumer e-commerce is expected to be $151.3 million in 2022. This is a 15% increase over 2021 figures. The demand for personalized e-commerce services will continue to grow to accommodate consumers' busy schedules. Businesses have also realized that outsourced fulfillment can be the solution to ensure continued production and customer order fulfillment during periods of supply chain challenges.
With 77% of consumers having chosen, recommended, or paid more for a brand that provides personalized services or experiences, the need for accurate and timely fulfillment increases almost daily. Outsourced fulfillment services ensure that orders will be shipped promptly with the accuracy that both consumers and businesses expect. It is important to start discussions early with your considered fulfillment center to discover how they can assist you with creating an effective and economical fulfillment strategy.
Traditional retailers are looking at online selling as a way to complement brick-and-mortar stores, improve profit margins, and exert more control over the brand experience. According to Ryder Ecommerce, "Nike, Under Armor, and Levi's are just a few of the brands that are pushing hard to expand their direct-to-consumer capabilities. Back in 2010, just 15% of Nike's revenue came from direct-to-consumer sales. By 2020, this increased to 40%, with plans to reach 60% by 2025".
But this doesn't mean that transitioning to direct-to-consumer e-commerce execution is easy. Ryder Ecommerce continues, "Building up a digital ecosystem that can handle omnichannel shopping activity and higher volumes of direct sales takes considerable legwork. Taking ownership over the end-to-end experience also means taking responsibility for the less sexy parts of direct selling – order management, freight, and shipments, just to name a few – and there's little room for error". This is where an effective outsourced fulfillment service proves to be a lifesaver in handling the aspects of e-commerce product delivery so as not to require business manpower or dedicated in-plant fulfillment space.
The global warehouse automation market is estimated to surpass $30 billion by 2026. This is up from just $15 billion U.S. dollars in 2019. The ARC Advisory Group survey published in July 2020 found that 79% of respondents think it's 'likely' or 'very likely' that they'll invest in warehouse automation within 1-3 years. "Manual processes are becoming increasingly costly to retailers who are pursuing greater speed and efficiency. However, upfront investments in automation are unlikely to pay off for smaller operations that can't achieve economy of scale throughout the year, as stated by Ryder Ecommerce. To avoid expensive software investments that end up gathering dust during periods of downtime, it's far more cost-effective to partner with an outsourced fulfillment center that can provide technological and physical infrastructure to support the rapid scaling of your fulfillment services.
The average U.S. consumer tracks their order an average of 3.9 times after purchasing. But over half of e-commerce merchants fail to provide tracking information through their website, preferring to rely on outsourced fulfillment instead. Integrated, real-time shipping updates are the key to instilling confidence in the reliability of your service. When combined with regular email communications and personalization, businesses can provide customers with the consistent, accessible after-the-sale experience they expect. A reliable outsourced fulfillment center can be an invaluable asset to ensure these things happen. You will be thankful you selected an outsource fulfillment operation as your business continues to expand.
COVID-19 has highlighted just how invaluable e-commerce services can be, leading legacy retailers to push into direct selling at a rapid pace. E-commerce is helping to streamline the online shopping experience for time-starved shoppers. "As order fulfillment becomes increasingly complex and time-sensitive, automation is the key to meeting consumer expectations and softening the impact of ongoing labor shortages", according to Ryder Ecommerce. Businesses can take advantage of these 2022 e-commerce fulfillment trends with the help of outsourced fulfillment services. Take the strain off your business from increasing e-commerce selling channel requirements by shifting the work to an outsource fulfillment center – one that has been thoroughly vetted and ensconced as a solid partner to your business.
It is well recognized that people who had never made purchases online or on their phones began doing so with regularity once the pandemic hit. It is equally recognized that those who were regular online shoppers for clothing or electronics also began purchasing groceries and household goods through various websites and apps. Over the past several years, consumers have become more vocal about their wants and needs from e-commerce companies.
According to Newscastle Systems, "There is a growing trend among e-commerce providers that emphasizes the customer journey. Specifically, companies are making changes to their online platforms and processes that make it easier to purchase items and track those purchases from shopping cart to doorstep. This includes sending automatic notifications when an item ships and helpful tips for correct product selection". To ensure your business can comply with the buyers' requirements an outsource fulfillment center can be the answer. It can take the load off your shoulders while satisfying your buyers' needs and do so cost-effectively.
Fulfillment is much different than it was just a few years ago. The e-commerce market has expanded nearly beyond recognition, placing companies in some difficult positions. But the companies that contract with an outsource fulfillment center can effectively realize the benefits of these e-commerce fulfillment trends and have an opportunity to achieve greater efficiencies in their operations and better overall business results.
If you are looking for fulfillment services, our new fulfillment center building has been completed. We constructed an additional 47,000-square-foot, state-of-the-art facility. The new fulfillment center is located next to our company's headquarters in Miamisburg, an ideal, nationally recognized geographic center for distribution with optimal ground and air access. The facility is a high-bay, narrow-aisle, 100% climate and humidity-controlled structure, incorporating the latest fulfillment management technology for accuracy and efficiency.
To learn more about our expanded warehousing and fulfillment services, please contact your Think Patented account executive or call 937.353.2299.