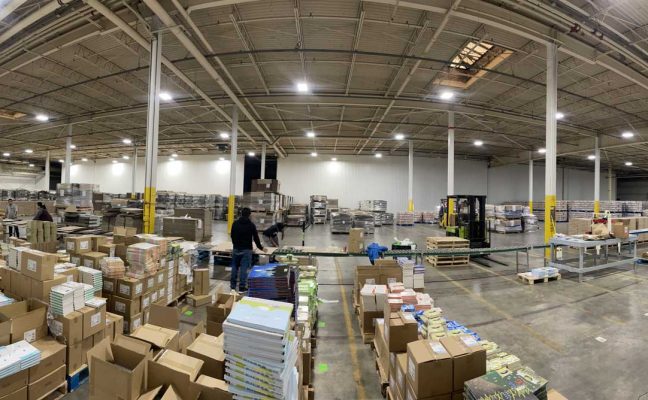 Well, Think Patented is at it again! In December 2021 I announced a major facility expansion that would house fulfillment and kit-packing. I stated that the new Fulfillment Center building had been completed and was open for business. Think Patented constructed an additional 47,000-square-foot, state-of-the-art fulfillment center. The new facility, located next to the company's headquarters in Miamisburg, is a high-bay, narrow-aisle, 100% climate and humidity-controlled structure, incorporating the latest fulfillment management technology for accuracy and efficiency. Well, the response from national clients was so strong that Think Patented has added a 43,000 sq. ft. kit-packing facility to accommodate the increasing demand.
The added kit-packing center, officially opened on December 2, 2022, is strategically located right off I-75 and I-275 and will be the hub for the Think Patented kit-packing operations. The new facility will increase capacity, and flexibility to meet customers' needs.
This expansion is a logical step for Think Patented, as kit-packing and fulfillment services naturally complement all our other services and will meet the growing demand of our current customers as well as new business opportunities. Moving our kit-packing to this new location will free up space and provide flexibility in the Miamisburg facility. Both will continue to create a positive work environment for Think Patented associates.
"We know we must constantly exceed our customers' expectations and bring more value that makes sense, which is why I am thrilled to announce that we've added 43,000 sq ft of space dedicated to kit-packing," said David McNerney, President of Think Patented. "I am excited for what the future holds for Think Patented, our clients, and our employees."
From the report, Packaging Market by End-user, Type, and Geography – Forecast and Analysis 2023-2027, the packaging market growth will increase by $223.96 billion during 2023-2027. The key factors driving the kit-packing market growth are:
To outsource kit-packing needs to free-up internal physical space and manpower.
To meet environmentally friendly kit-packing requirements.
To secure cost-friendly resources for kit-packing needs.
To add flexibility in kit-packing capabilities during busy times with volume increases.
To ensure timely kit-packing and shipping to meet critical deadlines.
Some of the markets served by the Think Patented kit-packing operation include retail, eCommerce, and healthcare to name but a few examples. If you would like to discuss ideas for your kit-packing needs for these and any other industry/market, please contact Think Patented. We have the resources to design your packaging, produce it, use our expanded kit-packing capabilities, and ship your packaging for on-time arrival.
To learn more about Think Patented's expansion, capabilities, and employment opportunities, visit www.thinkpatented.com, contact your Think Patented account executive, or call 937.353.2299.