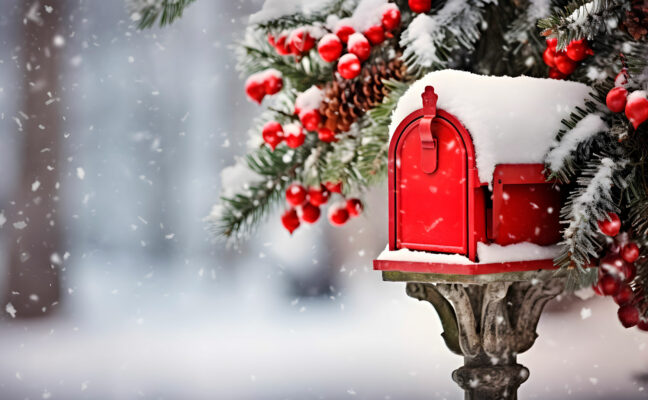 The holiday season is approaching, and businesses nationwide are gearing up for one of the busiest and most lucrative times of the year. To make the most of this festive season, planning your holiday direct mail and promotional materials well in advance is essential. In this blog, we'll delve into the significance of early preparation, the advantages of utilizing these marketing tools, and provide a list of best practices. Plus, the USPS has a little gift for us all this season—no holiday shipping surcharges!
The Importance of Planning Early
When it comes to holiday marketing, early planning can make all the difference. While it may seem premature to think about the holidays in early November, there's no time like the present to ensure a successful holiday campaign. Here's why it matters:
Increased Predictability
The USPS has announced that there will be no peak surcharge this holiday season, offering businesses greater pricing predictability. This is excellent news for budget-conscious marketers, as you can plan with confidence.
Budget Management
Early planning allows you to allocate your marketing budget most effectively. You can set aside funds for direct mail printing, postage, and promotional materials without the risk of overspending due to last-minute rush orders.
Enhanced Creativity
By starting now, you have more time for design. This ensures that your holiday direct mail and promotional materials can stand out with unique, eye-catching designs that capture the essence of the season.
Comprehensive Campaigns
Early planning allows for a holistic approach to your holiday marketing campaign. You can align your direct mail, email, social media, and in-store promotions for a consistent and effective messaging strategy.
To see how Think Patented can help make it all happen, check out our Mail360 program that incorporates multiple marketing touchpoints in one custom dashboard: https://connect360hub.com/services/mail360/
Timely Distribution
Planning sooner than later gives you ample time to secure mailing services with preferred delivery slots. Timely distribution is crucial during the holiday season, as it ensures your materials reach your audience before their holiday shopping decisions are made.
2023 USPS Holiday Shipping and Mailing Deadlines
Within the Lower 48 (excludes Alaska and Hawaii)
USPS Ground Advantage — Dec. 16
First-Class Mail (including greeting cards) — Dec. 16
Priority Mail — Dec. 18
Priority Mail Express — Dec. 20
Alaska
USPS Ground Advantage — Dec. 16
First-Class Mail — Dec. 16
Priority Mail — Dec. 18
Priority Mail Express — Dec. 20
Hawaii
USPS Ground Advantage — Dec. 16
First-Class Mail — Dec. 16
Priority Mail — Dec. 16
Priority Mail Express — Dec. 20
Air/Army Post Office (APO), Fleet Post Office (FPO), Diplomatic Post Office (DPO)
USPS Ground Advantage — Nov. 6
First-Class Mail — Dec. 9
Priority Mail — Dec. 9
Priority Mail Express Military Service — Dec. 15*
* PMEMS not available for APO/FPO/DPO AE ZIPs 093
Benefits of Holiday Direct Mail and Promotional Materials
Using direct mail and promotional materials during the holidays provides several benefits:
Personal Touch
Direct mail adds a personal touch to your marketing efforts, making recipients feel valued and appreciated. In a season focused on relationships, this can make your brand more endearing.
Increased Visibility
With the USPS's commitment to no surcharges, you can expand your reach without worrying about additional fees. This means more promotional materials can reach potential customers cost-effectively.
Enhanced Engagement
Well-designed promotional materials can capture the spirit of the holidays, engage customers emotionally, and drive them to take action.
Best Practices for Holiday Direct Mail and Promotional Materials
To ensure your holiday marketing campaign is a success, follow these best practices:
Start Early: Begin planning and designing well in advance, taking advantage of predictable USPS pricing.
Set Clear Goals: Define specific goals for your campaign, whether it's boosting sales, brand awareness, or promoting a product.
Targeted Audience: Segment your mailing list for personalized content and offers.
Quality Printing: Invest in high-quality printing for a professional appearance.
Engaging Design: Use festive colors, captivating imagery, and a clear call-to-action in your design.
Compelling Content: Craft engaging and concise content that highlights the value of your products or services.
Clear Call-to-Action (CTA): Make your CTA stand out, guiding recipients on the desired action.
Deliver Digitally: Make sure to take advantage of USPS's Informed Delivery.
Include an Offer: Shoppers are looking for deals during the holidays—make sure you give them a strong why to buy!
Distribution Strategy: Plan your distribution carefully to ensure timely delivery.
Early planning + best practices = a winning combo for the holiday season—and all year long. With no shipping surcharges and a clear deadline schedule, the USPS has made it easier than ever to deliver in December… So make sure you put direct mail and/or promotional materials on your wish list!
Direct Mail delivers during the holidays and all year round. It's not too late to plan your drop. Call us today at 937.353.2299 or visit https://connect360hub.com/services/mail360/