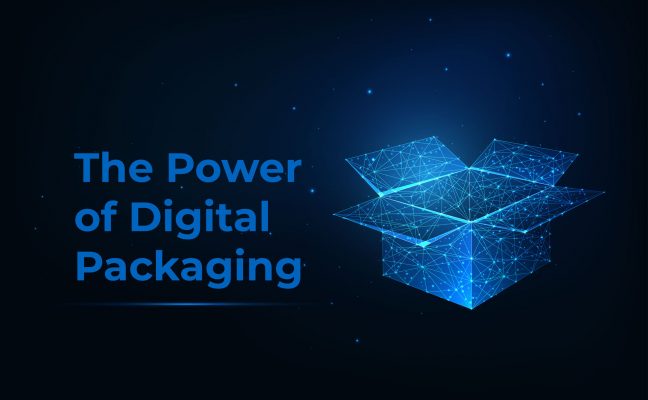 Marketers are increasingly under pressure to prove the effectiveness of each component of their marketing spend. Analysis of successful case studies in the World Advertising Research Center (WARC) database shows that digital packaging can be an unsung hero of the marketing mix, and when digital packaging in particular is used, there are significant effects on metrics such as sales, market share and ROI.
What is digital packaging? According to Nathan Dube, Digital Marketing Specialist at Industrial Packaging, "Digital packaging is packaging that is made using digital technology, three- dimensional software, printed electronics and digitally controlled manufacturing protocols. It is any packaging that features connected technology including QR codes, augmented reality, smartphone scanning and so on. Digital packaging is smart packaging that is an important dynamic within the ecosystem of the digital marketing realm. It promotes interaction with consumers and may collect data about its journey from production to disposal. Digital packaging attempts to enhance the relationship between companies and consumers and works through processes of engagement with buyers including but not limited to gamification, education, entertainment and other interactive activities."
There are three goals for digital packaging that must be met if acceptance is to be realized. These include: the quality of the image; durability of the image; and the cost of packaging. Without these three things, digital packaging will fall short. Digital packaging can meet these three goals by:
Getting the package to market faster
Reducing warehouse costs
And as an added bonus, providing the brand with an uplift in the marketplace.
In addition, digital packaging provides advantages throughout the supply chain. The total life cycle can be greatly improved. Mr. Dube defines the following supply chain advantages, "Scanning applications for smartphones allow for the use of symbols, glyphs, pictures, and other images like QR codes to be scanned. The scanned image can produce far more information than a traditional label could possibly contain. This means better coding, tracking and related dynamics for your packaging line and each and every product you sell. This kind of technology improves the speed and efficiency of your line and makes for a smooth-running supply chain. With digital packaging, speed to market also greatly increases."
According to the Xerox Corporation, "Consumer demands for authentic, safe, and intelligent products are on the rise. Similarly, brands are constantly looking for ways to protect themselves from the threats of counterfeiting. The solution? Smart packaging (also called digital packaging) that can store, sense, compute and wirelessly communicate information — acting as if the package has a mind of its own."
Where is digital packaging best suited? If you have versioning applications for your packaging services, then digital packaging offers many time-saving advantages. It is not so well suited for personalization applications. In addition, augmented or virtual reality solutions are expensive to produce. Many small businesses or corporations with restricted budgets will find these digital packaging examples out of their reach due to the price for development. On the other hand, smartphone scanning and QR codes are inexpensive and easily configured. Don't throw out digital packaging altogether. Look for solutions that meet your budget. The results will be worth your effort.
While social media is changing the way people shop for products in stores, the growth of ecommerce has also created a variety of opportunities for digital printing to add customization to packaging. Coinciding with the customization capabilities, the rapid technological advancements in digital printing for packaging are providing brands with the opportunity to connect with consumers on a visual and personal level.
According to Cory Francer, editor-in-chief of Packaging Impressions, "Not only are today's consumers looking for different experiences from the brands they interact with, but they have a new tool that is shaping the way they interact with products. Nearly 70% of the world's population has mobile connectivity and can therefore connect with social media at any time.
The Lays Potato Chip Summer Days campaign featured customization and earned a Gold Award in the 2016 Flexible Packaging Association Achievement Awards. Through the use of digital printing, brands have been able to use packaging to enter new communication channels, with social media being at the forefront. For example, the campaign from Frito-Lay demonstrated an excellent strategy of using digital printing to engage consumers via social media. Francer continues, "the Lays Summer Day campaign allowed consumers of Lays potato chips to upload a summer-themed image through an interactive tool on the Lays website. Then, according to a press release from Frito-Lay, the first 10,000 submissions approved by the brand would receive a custom bag of Lays chips personalized with their photo."
Brand packaging consultant Mike Ferrari, founder of Ferrari Innovation Solutions explains that "today's consumers live in the moment, seeking out unique experiences — even when browsing store aisles. They look for something that will be more interesting to them, rather than something that is generic," says Ferrari, who spent 32 years with Procter & Gamble.
Ferrari continues, "Sameness is gone and consumers are looking at their products as something that speaks to them, not something that is institutional for the masses. Because of this shift in consumer behaviors and preference, Ferrari explains that the advantages digital printing brings to the packaging industry are becoming more prominent than ever. Brands are seeking out ways to create packaging that speaks to consumers as individuals and using digital printing to customize and tailor content to individual consumers can create that connection."
What about the return on investment? Ferrari explains that "when deciding on which digital asset to acquire, digital packagers should focus on the solutions they aim to provide for their customers, and not get bogged down in using what is referred to as "legacy metrics" to calculate a return on investment." For example, Ferrari explains that "just because a digital press may print slower than a conventional press and the price per piece may be higher, it does not mean the technology is not ready. Instead, package printers should focus on how the technology can alleviate problems for customers and use that information to measure value."
This is an important redirection in terms of return on investment. As part of the focus that today's marketers face, the attention redirection to the client is rearing its head throughout the marketing and now the supply chain channel. It makes more sense than traditional ways of measuring return on investment. If businesses can attract more customers, get the package to market faster, and reduce warehouse costs, what better way to measure return on investment than to track and measure these three elements? With greater customer satisfaction and the acquisition of new customers, the results will support the financial benefit of digital packaging solutions.
But what is the consumer's point of view in terms of using digital packaging technologies? According to Lead Innovation Management, "The development of innovations in the field of smart packaging will in the future open up a wide range of opportunities to reach consumers and understand their needs. Experts agree in principle that the consumer's need for information will continue to increase and that "communicating" packaging will be well received by consumers. This is also confirmed by the Mindshare study "Everyday Connects". The willingness to use smart packaging is very high. It falls under the premise of simple and fast interaction. Smartphones are the best way to do this, but without installing an app in advance."
Lead Innovation Management continues, "The digital transformation has captured the packaging industry. However, the use of smart packaging or digital packaging should not be primarily oriented towards trends and image cultivation but should focus on the benefits for the company itself and the customer. The potential and added value of innovative packaging should be profitable for consumers, manufacturers, and retailers alike."
With a track record of boosting sales and engaging customers on a level not seen before, digital packaging will assuredly become one of the hottest trends in the coming years. Whether it is augmented reality, QR codes, or scannable images, you can be sure that we will be seeing more manifestations of digital packaging with each passing day. The benefits speak for themselves.
For more information on innovative digital packaging solutions, contact your Think Patented account executive or call 937.353.2299. The future is here now. Marketers need to jump on board or risk being left behind.