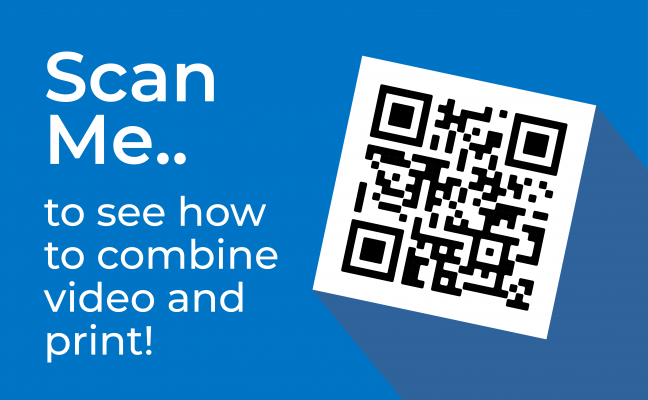 Forget your past experience with QR Codes (Quick Response Codes). It's a new marketplace out here and the use of QR Codes is flourishing as customers seek more information and more interaction with your brand. QR Codes are the bridge to combine video or digital with print for a whole new level of engagement and interaction. They can be included on any printed materials, direct mail, advertisements, product labels, signage and so much more. They are an opportunity to add spice to any piece when you connect the QR Code with explanatory videos, website landing pages, and online brochures to mention a few options.
According to QuickReg, "Some of the world's largest companies leverage Quick Response (QR) Codes to stand out from the crowd and improve customer experiences. Whether you are a manufacturer, retailer, or eCommerce seller, using QR Codes is important in elevating your business. Since the start of the global pandemic, QR Codes have grown in popularity. This shift has created a tremendous opportunity for companies to gather marketing data and increase customer loyalty. Just like some of the world's largest companies (Amazon, Apple, Walmart, Dunkin Donuts, Starbucks), smaller organizations can (and should) use QR codes to:
Enhance the customer experience 
Drive online reviews
Educate customers
Promote discounts and increase lifetime value
Build an emotional connection with customers
Share your purpose".
The use of QR Codes provides customers with one location to find warranty information, discounts, and product review pages.  The information is convenient, right in the hand of your customer, with a quick scan on their smartphone.
"The QR Code is a square-shaped black-and-white symbol that is scanned with a smartphone to learn more about a product or service. These encrypted squares can hold content, links, coupons, event details, and other information that users want to see. Not every QR code is shaped like a perfect square. Sometimes they have unique patterns, colors, and company logos displayed inside", according to HubSpot. The inclusion of your company's logo inside the QR Code provides additional visual brand recognition and entices the customer to scan the QR Code, gaining access to further information about your product or service.
It is hard to believe that any direct mail piece would be sent out without a QR Code. Take advantage of this opportunity to expand and enhance the direct mail message beyond what fits on the postcard, with a link to a video featuring further explanation by an engineer or the CEO. Include footage of the product or service in action. Re-emphasize the value that customers can realize with the purchase of your product or service. Include user testimonials to reinforce your value proposition. Excite and entertain your customers while reiterating your message. You are only limited by your imagination. And it all starts with the inclusion of the QR Code on your printed postcard or brochure.
Use of the QR Code also allows you to track and analyze the results of your direct mail postcard. "Just like any marketing campaign, you should follow up on any collateral or campaigns using QR Codes to see whether they're actually working. How much traffic comes from each specific code? Are people scanning your code but not redeeming their offer once they get to the landing page? Or are they not even compelled enough to scan your QR Code in the first place?", according to HubSpot. Don't use a QR Code just for the sake of using one. Make it effective. Make it worth the customers' time to scan and review the additional information you share. Take advantage of this opportunity to bring home your message and encourage conversion.
The number of US smartphone users scanning a QR Code will increase from 83.4 million in 2022 to 99.5 million in 2025 (Insider Intelligence). Most smartphone cameras now recognize QR Codes increasing the ease of use and consequently adoption. Dynamic QR codes generated by users accumulated a total of 6,825,842 scans from global users in the first quarter of 2022—a 433% increase over the first quarter of 2021 figures. Based on QRTIGER's database, here is the top country with the highest scanning activity for the first quarter of 2022 – the United States with a 42.2% increase year over year. The United States led the countries worldwide in QR code usage in the first quarter of 2021, recording a total of 2,880,960 scans. All of these numbers are quite promising for the incorporation of QR Codes on all your collateral materials and direct mail campaigns.
QR code usage statistics from July 11, 2022 (QRTiger) indicate a 443% scan increase and 438% lead generation boost. Insider Intelligence found in a June 2021 survey that 75% of their respondents show a willingness to use more QR Codes in the future. This can contribute to an increase in QR Code usage statistics in the future. Based on statistics, the popularity of QR Codes will remain and soon be everywhere. They are a cost-effective, low-energy tool. You can just print one and paste it strategically anywhere. A June 2021 survey in the US by Statista revealed that 59% of respondents believe QR codes will become a permanent part of their smartphone usage in the future. According to the QRTIGER CEO, "the number of leads you can generate through QR Codes is huge if you use them wisely. It is important to put a call to action under your QR Code to get more scans. I think the QR Code is the bridge today between the offline world and the mobile phone".
It's a new marketplace and the use of QR Codes is flourishing as customers seek more information and more interaction with your brand. They want an immersive experience orchestrated by authentic brands that consistently deliver. Provide a high-touch experience for customers via QR Codes. Don't overlook this opportunity.
For more information on the use of QR Codes, contact your Think Patented account executive or call 937.353.2299.