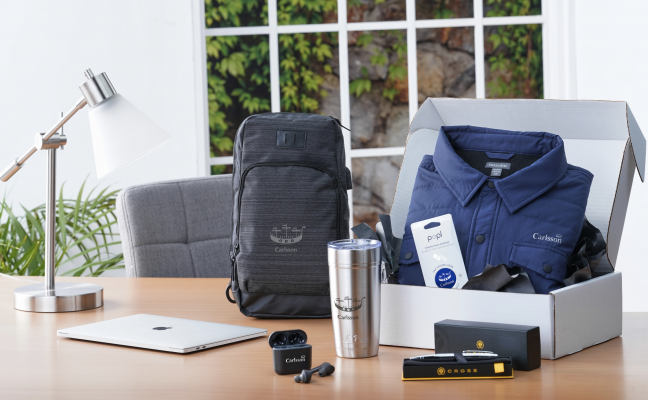 Are promotional items more than just giveaways? Just ask your customer that keeps it on the desk, the trade show visitor that takes it home, or the employee that truly appreciates the recognition. They will all attest that promotional products are much more than just giveaways.
There's a reason why promotional gifts are considered one of the first advertising techniques used and why they're still around. If you take a minute to look around your home or office, you will likely see that you own at least one promotional product.
According to Entrepreneur.com contributor Gene Marks, "It's not just the money. It's the little act of saying 'I care' and 'Thank you for being a customer', and this silly little act of kindness goes a long way."
According to the Advertising Specialties Impressions Study (ASI), promo items are still the most highly viewed form of advertising among consumers. This is true even despite how often consumers view TV or digital advertisements. That's why American businesses alone spend $20 billion each year on promotional products alone.
"Promotional products are as effective today, if not more than 10 years ago," says Quality Logo Products CEO Bret Bonnet. "Promotional products have always, and continue, to show strong growth." According to Bonnet, the industry had an impressive 15.1% five-year growth rate, with $21.3 billion in total sales in the United States. This makes it the seventh largest marketing channel in the country. The recall rate for promotional products is a record 85% for some products.
According to the American Marketing Association, on average, a promotional product is kept for around five months, garnering an average of about 1,000 impressions per month. However, the more useful the item is, the longer it will be retained and the more impressions it will make. The most useful items today are generally bags, items of clothing, and travel mugs but do not let this limit you.
What qualifies as a promotional product? Items that are considered promotional products are typically free to the recipient, have a company's name, logo, and slogan, or message on them. Almost anything you can think of could become a promotional item. The only limit to the possibilities is your imagination.
If you want to gain new customers, you need to make sure they are familiar with your brand and what you offer. The items you give out will help your customers remember you and what you do in the long run. If you choose the right product, the product and your brand will stay with them for a long time. It will serve as a constant reminder of your company.
You can reinforce your marketing endeavors with promotional products. Promotional products are an effective marketing tool since they allow a brand to connect with customers by engaging many senses at the same time – visual, touch, sound, and sometimes smell. They are one of the few forms of advertising (in addition to direct mail) that allows customers to interact with a brand on a physical level.
If you want to create a memorable brand experience, give your customer a promotional item. Most customers retain the item, creating an opportunity to view your brand name over and over. Many customers share your promotional item with co-workers, extending the reach of the promotional product's brand reinforcement effectiveness. In fact, according to the Advertising Specialties Institute study, 63% of those in the United States and 64% of those in Canada give their promotional products away when they are finished with them. This extends your reach even more.
Giving away free products also works when it comes to employees. You could give these promo items at your company's events or parties. They may help the employees feel that their time at these events was worthwhile. It can also help remind the employees of the good times they had during that event. Every time they use that gift from you, it will foster a greater sense of loyalty to your company.
Promotional items increase brand awareness for customers, reward employees, enhance loyalty programs, and much more. Look at some additional statistics showing the effectiveness of promotional products:
88% of promotional product recipients remember the brand name of the advertiser
85% of the recipients do business with the advertiser on the product
83% of people like receiving promotional products.
According to the American Marketing Association, "Every businessperson is familiar with business cards. You know that these are useful tools for introducing yourself and your business to potential customers. You might be surprised to find out that promotional products do the same thing, but with even better results. Over three-quarters of people who receive a promotional item are able to remember the name of the company that gave it to them. The same can't always be said when you give out a business card. When the item contains your information like your logo, slogan, or even contact information, it can be much more useful than a business card."
Put your brand on things that your customers can wear, drink from, carry with their laptop, or just use in their day-to-day life. Promotional products are not just giveaways. They create presence and awareness, placing your brand top of mind for an extended period of time.
Looking for a creative promotional product for your brand? Check out Think Patented promotional products website at ThinkBranded.com or contact your Think Patented account executive or call 937.353.2299.
You can trust the team at Think Branded to make recommendations that are on-budget and personalized for your company's specific needs. From trade show items to the latest apparel trends and everything in between, Think Patented is your one-stop shop for Memorable Promotional Products.