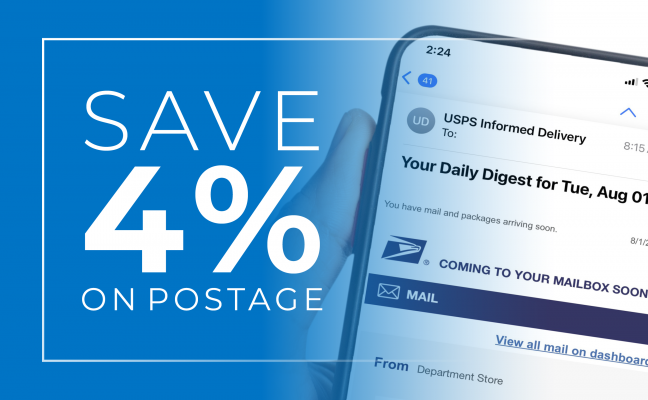 Ready to say goodbye to, "the way we've always done it?" Say hello to Informed Delivery, USPS's game-changing tool that merges traditional direct mail with digital marketing. To help mailers maximize their Informed Delivery campaigns, USPS is rolling out an exciting promotion from August 1-December 31. In this blog, we'll explore the benefits of Informed Delivery and how you can qualify for a 4% discount off postage using best practices and techniques.
Learn more about this and other USPS promotional discounts we can help deliver here: https://postalpro.usps.com/mnt/glusterfs/2023-01/CY-23-Calendar-Proposal_Jan-12pptx.pdf
What is Informed Delivery?
Informed Delivery is an innovative service offered by USPS that provides eligible residential and PO Box consumers with a digital preview of their household's mail via email. Alongside this digital preview, businesses are also able to add ride-along images to enhance the overall mail experience for recipients. According to USPS, over 25 million users have already embraced Informed Delivery, making it a powerful medium for reaching your target audience.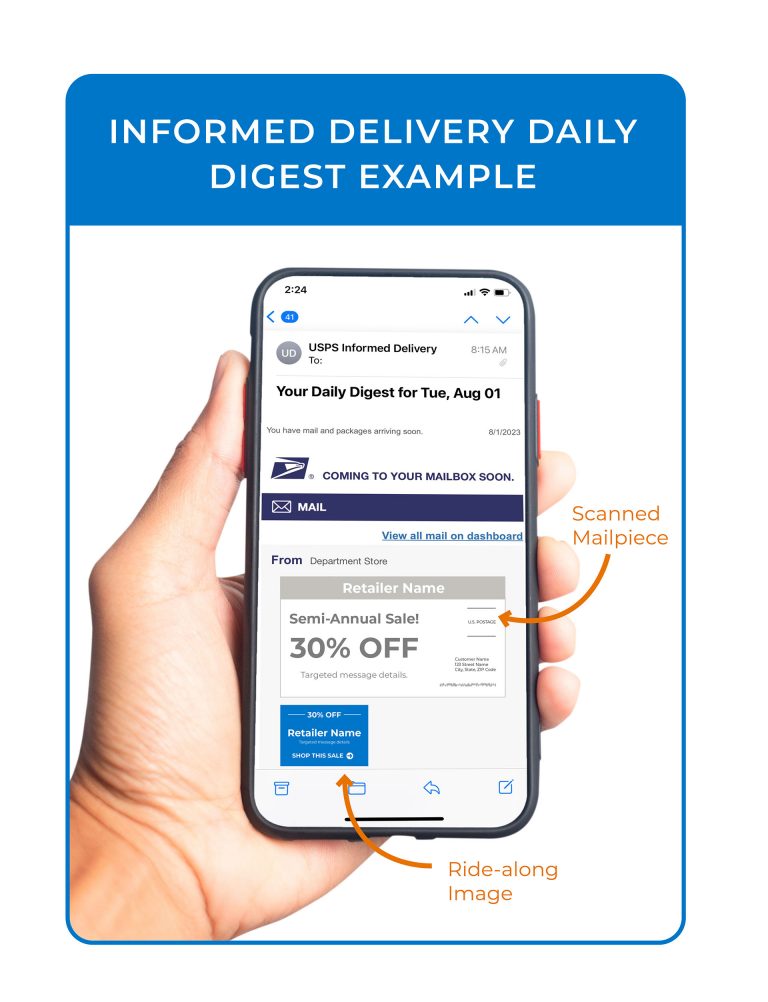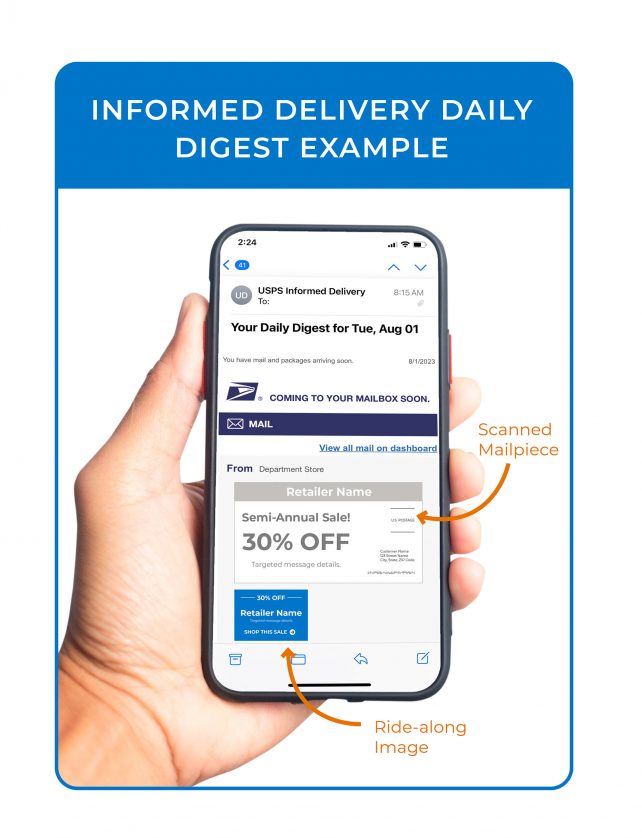 Engaging Users Through Integrated Mail and Digital Marketing:
Imagine capturing your audience's attention not only in their mailbox, but also in their inbox. Informed Delivery allows you to do just that! By combining a digital ride-along, you create additional touchpoints for recipients to interact with your offer. USPS research shows that this multi-channel approach can generate up to 10% higher response rates compared to traditional mail campaigns alone. Talk about boosting your marketing ROI!
The Benefits of the 2023 Informed Delivery Promotion:
To incentivize mailers to leverage the power of Informed Delivery, USPS is offering a 4% discount on postage for mailings that utilize ride-along images.
Research Findings: The Power of Informed Delivery
Informed Delivery users open their emails at a staggering rate of 70%, significantly higher than the average email open rates across industries.
89% of users check their Informed Delivery notifications every day, showing high engagement and receptiveness to the digital preview of their mail.
Informed Delivery campaigns generate an average of 10 additional consumer interactions per mailpiece, increasing the chances of conversion and improving customer engagement.
Feeling overwhelmed by the options? Marketing execution partners like Think Patented are experts in helping businesses leverage direct mail—and USPS discounts—to build their business.
With decades of experience in the print and mailing industry, print service providers possess in-depth knowledge of these promotions' requirements and also incorporate best practices to help businesses make the most of their investment. They can handle the registration process, ensuring your campaign meets all the necessary criteria to qualify for the 4% discount off postage. Additionally, marketing partners like Think Patented can advise businesses on how to integrate Informed Delivery into their mail campaigns more effectively. From creating eye-catching digital ride-along images to optimizing the preview images, we can help businesses craft compelling content that engages recipients and maximizes response rates. By partnering with a print service provider, businesses gain access to valuable expertise and resources that enable them to navigate the complexities of the promotion, ultimately increasing their chances of success and maximizing the potential benefits of Informed Delivery.
What are the Campaign Requirements?
The campaign elements (Ride-Along Images, Representative Images, and a URL) are used to create an Informed Delivery campaign. The campaign elements will appear in the mail recipients' Informed Delivery Daily Digest email. All Informed Delivery campaigns must include a Ride-Along Image and URL.
Ride-Along Images are full-color, interactive images that appear in the Informed Delivery users' daily digest. They redirect users to a target URL via a clickable interaction, bolstering the customer call to action (CTA) and reinforcing the objective of the mailpiece.
General Requirements for the Ride-Along:
Ride-Along Image must directly relate to the promotion or offer in the mailpiece
Treat the Ride-along Image like a branded, clickable button with a call-to-action
Opt for a clean, simple layout
Provide a direct URL related to the desired user action
Must be sized to at least one maximum dimension: 300px width or 200px height
Must be saved as a JPEG (.jpg) file
Cannot exceed 200KB in size
Image color code must be RGB (not CMYK)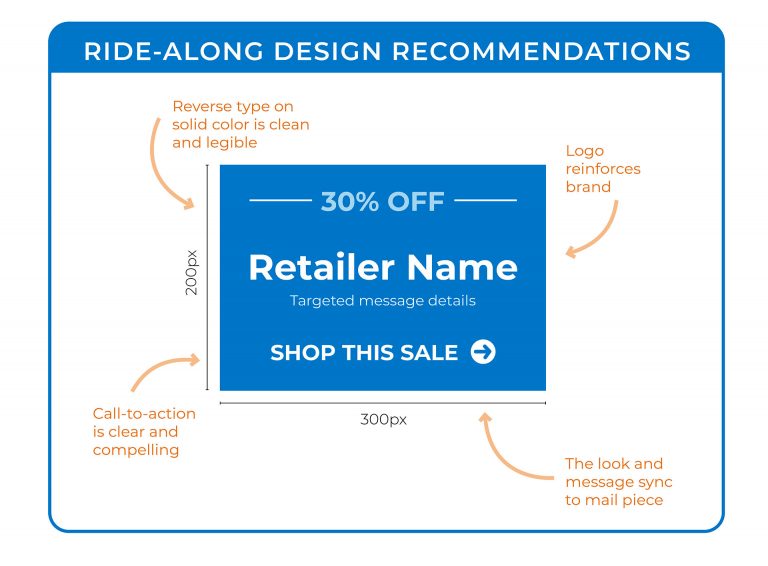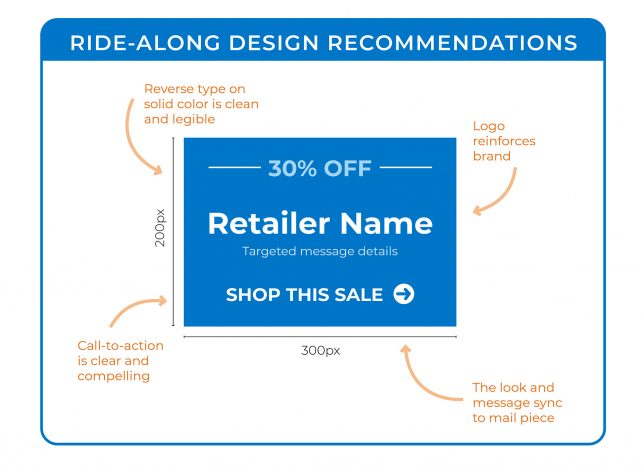 How do Direct Mail Specialists Make a Difference?
Expertise and Experience: Direct Mail Specialists have extensive knowledge and experience in executing direct mail campaigns. They understand the nuances of the USPS and can guide businesses through the process to ensure compliance and maximize the benefits of the promotion.
Strategic Campaign Planning: Direct Mail Specialists can help businesses develop strategic campaign plans that integrate direct mail with other digital marketing initiatives. By leveraging Informed Delivery, businesses can create a cohesive and engaging multi-channel experience for their target audience, resulting in higher response rates and improved campaign effectiveness.
Creative Design and Personalization: Marketing service providers excel in creative design and can help businesses create eye-catching and personalized direct mail pieces. With their expertise, businesses can design compelling mailers that capture recipients' attention and entice them to engage further with the content, both in physical and digital formats.
Efficient Execution and Timely Delivery: Marketing service providers that offer print, creative services, and fulfillment, ensure efficient execution and timely delivery of direct mail campaigns. They can handle all aspects of the mailing process, including design, printing, addressing, and distribution, allowing businesses to focus on their core operations while ensuring their mailings reach the intended recipients on schedule.
Measurement and Analytics: Marketing service providers can track and measure the effectiveness of direct mail campaigns, providing businesses with valuable insights and analytics. By analyzing response rates, conversion rates, and customer engagement metrics, businesses can refine their future campaigns and optimize their marketing strategies to achieve better results. (With Think Patented's platform, Mail360, you get access to a custom reporting dashboard.)
By partnering with a USPS approved Marketing Service Provider with an on-staff Direct Mail Specialist like Think Patented, businesses can tap into their expertise, streamline campaign execution, and leverage the USPS Informed Delivery promotion to its full potential. This collaboration enables businesses to achieve higher ROI, enhance customer engagement, and drive growth through more successful direct mail campaigns.
The USPS's Informed Delivery promotion presents a unique opportunity for mailers to enhance their campaigns by combining traditional mail with digital marketing. By leveraging Informed Delivery, you can engage recipients through multiple channels and increase the effectiveness of your mailings. With the 2023 Informed Delivery promotion, you have the chance to save 4% off postage by utilizing best practices and techniques. Don't miss out on this exciting opportunity to enhance your marketing efforts and maximize your campaign's potential.
A 360-degree view of your direct marketing efforts is what Think Patented provides through our proprietary Mail360 platform. Learn more at https://connect360hub.com/services/mail360/ or call us at 937.353.2299