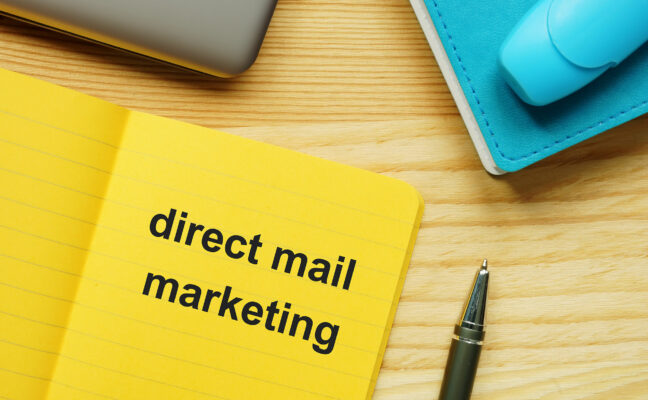 While digital marketing has garnered much attention in recent years, there's one timeless tool that's experiencing a revival: Direct Mail. The latest research from Lob shows not only did US direct mail volumes inch up last year, but marketers are also reporting increased satisfaction with their direct mail efforts. In fact, nearly two-thirds (64%) of American adults admit that direct mail has inspired them to take action, whether it's exploring websites, reading reviews, or making a purchase.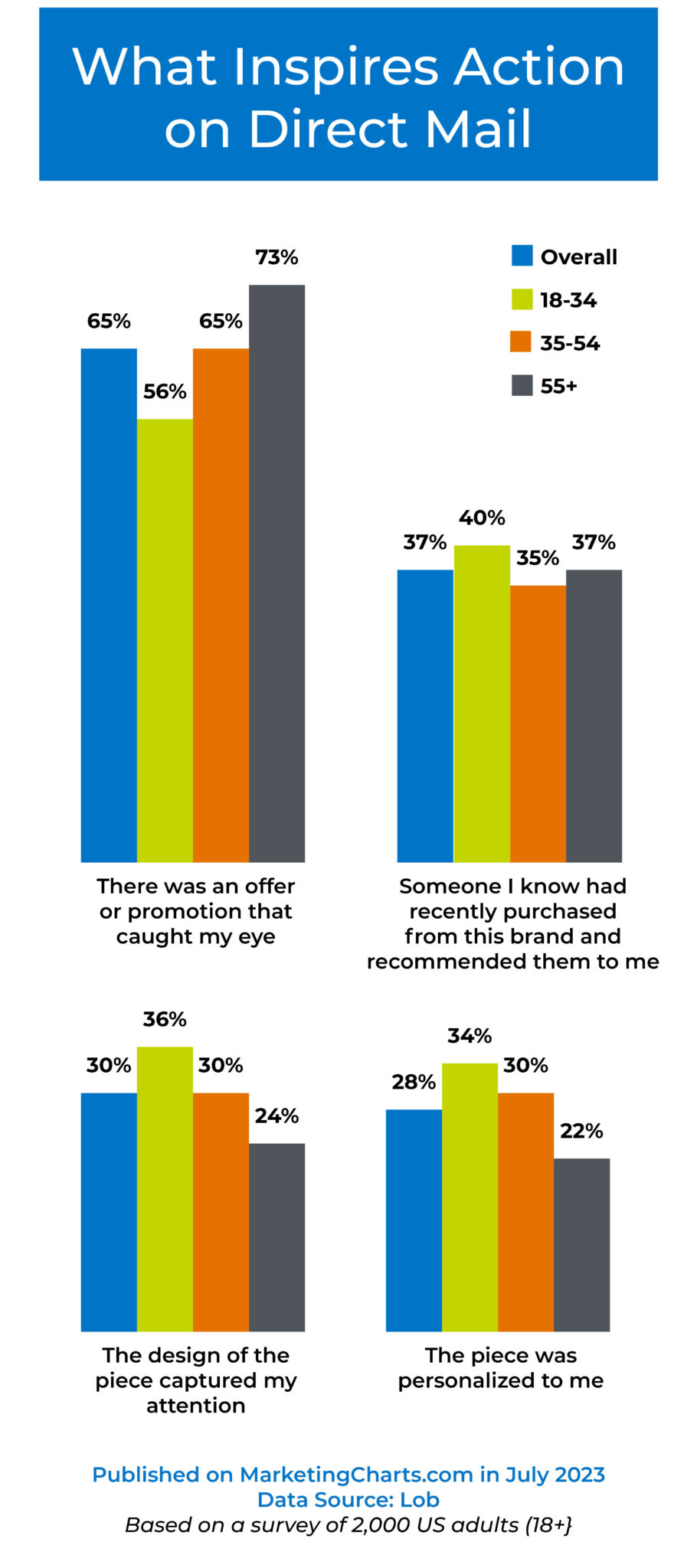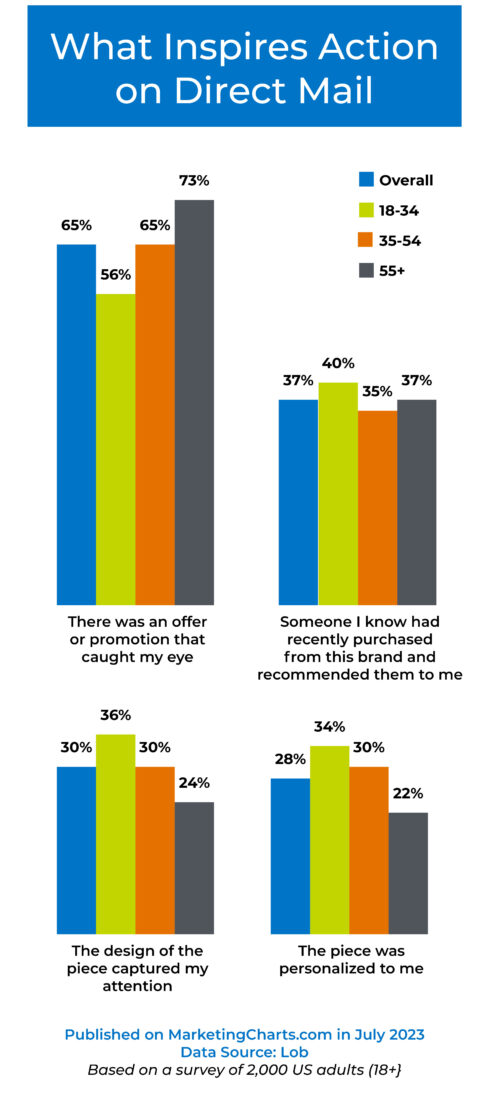 Offers: The Key to Direct Mail Engagement
One of the standout findings is the pivotal role of offers in direct mail engagement. An impressive 65% of respondents stated that they would be motivated to take action based on an enticing offer or promotion that caught their eye. Among respondents aged 55+, this percentage increases significantly to 73% (compared to 56% among respondents aged 18 to 34.)
The Brand Factor
A brand's reputation also has a significant influence on direct mail recipients. Approximately 60% of respondents mentioned that they would take action if they were already interested in the brand, product, or service being promoted. Furthermore, 37% would act if someone they know had recently made a purchase from the brand and recommended it.
The Aesthetic Appeal
The design of a direct mail piece isn't to be underestimated, with 30% of adults acknowledging its potential to capture their attention and inspire action. This could involve visiting the brand's website, exploring their social media, or making a purchase. Of course, this aspect is especially crucial for younger consumers, as those aged 18 to 34 are 50% more likely than other age demographics to be influenced by the design of a piece (36% vs. 24%). Respondents also shared insights on the types of images that captivate them the most – images of items or brands they've previously purchased, images related to local events or locations, and images of food.
Personalization Matters
Personalization is a growing trend in direct mail, and its impact varies with age. Younger individuals (34%) are more influenced by personalized content compared to the older demographic (22%). Additionally, 18% of respondents aged 18 to 34 expressed a preference for using a personalized URL to learn more about a brand from a piece of direct mail, in contrast to 11% among those aged 55 and older.
The Rise of Personalized URLs and QR Codes
The report also highlights the surging popularity of personalized URLs and QR codes. This year, 48% of respondents indicated their willingness to open direct mail containing a personalized URL, up from 42% the previous year. Moreover, 43% found direct mail with a QR code appealing, marking an increase from 37% in the previous year. Among young adults aged 18 to 34, 51% expressed their readiness to scan a QR code on a piece of direct mail.
Taking Action with Direct Mail
Taking a closer look at the actions people take after receiving direct mail, the statistics are quite revealing. A significant 57% reported visiting the brand or service website, while 53% mentioned searching for the brand, product, or service online. Impressively, 36% said they had made a purchase or signed up for a service as a result of a piece of direct mail.
More Insights and Highlights
The survey also uncovered several additional insights. Around half of adults admit to occasionally (40%) or often (11%) sharing direct mail with family or friends. A staggering 71% claim to read direct mail on the same day it arrives in their residence, with 78% of respondents aged 55+ falling into this category. Most respondents (55%) expect direct mail from brands to be personalized in some way. Additionally, nearly half (47%) mentioned that they often discover new brands through direct mail.
In an era dominated by digital marketing, the resurgence of direct mail is noteworthy. Its ability to engage and inspire action, coupled with the factors of offers, branding, aesthetics, personalization, and emerging technologies like personalized URLs and QR codes, make it a valuable tool in the marketing arsenal. The research shows direct mail is an opportunity you can't afford to miss.
When you want your marketing message delivered directly to their door, direct mail makes the most sense. Call us today at 937.353.2299 or visit https://thinkpatented.com/does/mailing