The Think Patented Apprenticeship Training Program is designed to prepare individuals for occupations in the printing industry. Our program provides hands-on training that provides real-world work experience for a holistic and realistic understanding of the graphic communications world.
Apprentices earn while they learn an occupation in an industry that has high demand for additional workforce. Successful completion of the Apprenticeship program indicates the person's ability to run specific machinery and equipment at Think Patented. It also initiates opportunities for plant supervision and management positions in the future.
Building a highly skilled and dedicated workforce is vital to the survival of any industry, and ours is no different. Rather than wait for the industry, educators, or the government to find a solution, we did it ourselves. Many industries have dropped training programs because they believe the cost outweighs the benefits. It is our contention that this could not be further from the truth. Given the extreme expense of searching for already skilled employees and paying advanced wages only to find it is the wrong fit, the cost benefit of an apprenticeship becomes crystal clear.
With Apprenticeship Training Program graduates already gainfully employed on a full-time basis at Think Patented, the program continues to grow. The first graduate apprentice, Zachary Fyffe, started as a temporary production employee in October of 2015. After demonstrating an uncommon style and work ethic he was brought into our apprenticeship program. Upon completion of his training, he was placed in a full-time, highly skilled position doing full set-ups, maintenance, and quality control.
The latest two individuals accepted into the Think Patented Apprenticeship Training Program are Michael Ellis and Jessee Dapore. Both individuals are now heavily involved in the training program. An apprenticeship is not just about mechanical operations and proper quality checks, it's about people and how well they suit the job and adapt to the company culture and surroundings – and their fellow workers. Our Apprenticeship program provides well-rounded personal development as well as technical training to prepare individuals for solid careers.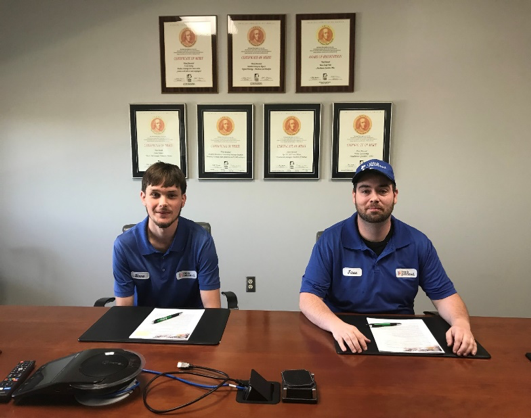 In addition to the Think Patented Apprenticeship Training Program, we also have a paid Internship Program. Internships give students educationally related work and learning experience that integrates theory learned in the classroom with practical application and skill development on the job and contributes to the development of personal and professional maturity and ethics. The Internship Program provides us with the opportunity to assist in the student's development, supplement our workforce with emerging talent, and enhance our long-term recruiting efforts.
We also have developed higher education partnerships with Clark State in conjunction with our Internship Program. Bitstorm Connect, the creative and online division of Think Patented frequently has a need to hire associates educated and skilled in the areas of new media. New Media brings together web design and development; social media; and digital content creation such as photography, video, audio, and animation to create the ultimate, interactive experience for a computer user. Think Patented serves on the New Media Advisory Committee and actively participates in the internship program. In fact, Think Patented has hired numerous Clark State graduates from the New Media program.
In support of our Apprenticeship Training and Internship Programs, Think Patented supports the National Print and Graphics Scholarship Foundation (PGSF) where apprentices can apply for scholarship grants for two-year vocational schools. Niels M. Winther, Managing Partner & Chairman of the Board of Think Patented, serves on the National Print and Graphics Scholarship Foundation Board of Directors.
Think Patented has taken a proactive approach in addressing its workforce needs. We are serious about preparing and hiring well-trained individuals to meet workforce needs today and in the future.
Think Patented, headquartered in Miamisburg, OH is redefining today's "Printing" company.  Offering extensive services to clients worldwide with printing, One2One marketing, purl's, mobile marketing, web-to-print solutions, fulfillment services, direct mail, wide-format printing, design services and promotional products, all under one roof.