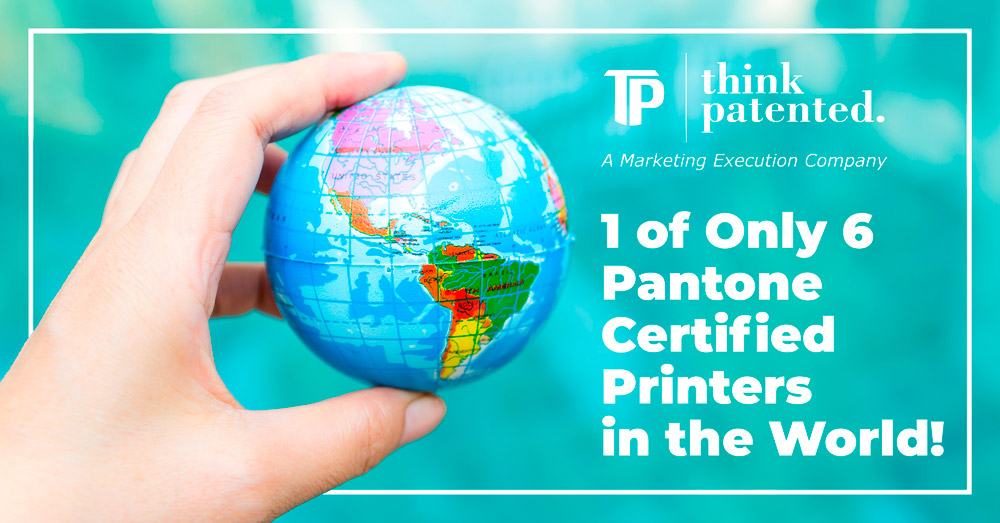 Pantone Certification is a process that ensures the integrity of print production. It's not just about color matching, but also ensuring that we're meeting industry standards and best practices.
Think Patented is one of only six Pantone Certified Printers in the world, a distinction that sets us apart from the competition. Our team of experts has undergone rigorous training and auditing to ensure that our production processes meet the highest standards of color consistency and quality control.
Moreover, being one of only six Pantone Certified Printers in the world is a testament to our commitment to excellence. It is a recognition of our hard work, attention to detail, and dedication to providing the best possible products to our clients.
At Think Patented, we take pride in being Pantone Certified and strive to maintain this distinction by continuously improving our processes and procedures. Our clients can trust that their brand colors will be reproduced accurately every time.
The Benefits of Pantone Certification
Reduce waste and increase efficiency
Drive consistent color across print or digital media formats at all times
Implement and enforce SOPs that improve color execution
How to Achieve Pantone Certification
Pantone experts visit your facility to audit your processes and procedures, then provide recommendations for improvement. They'll also conduct a final inspection before issuing an official certificate of compliance–a document that proves you're following all necessary steps to produce consistent colors in any medium.
Pantone Certification is a quarterly review process that ensures quality control in all steps of production. This includes:
Color matching
Material selection and use
Printing process (ink, substrate, etc.)
The Benefits of Being Pantone Certified for Our Customers
As a Pantone Certified Printer, we are able to offer our customers the confidence that comes with knowing that we are producing accurate and consistent color. They can be sure that their brand's colors will print as intended every time they place an order with us.
A Pantone certification is a valuable asset for businesses and customers alike. It can increase efficiency by allowing us to produce more accurate colors in the production process, which means less time spent on revisions and mistakes. It also helps ensure reliable performance when it comes time for printing large runs of materials like brochures or posters where consistency matters most!
Pantone's global recognition has made it a standard in the printing industry since it was founded in 1962. This universally respected process assures that a brand is being represented accurately across all channels of communication–from digital marketing materials to product packaging–and allows customers to focus on what matters most: growing their business!
Contact us today to learn more about how we can help you achieve your printing and marketing goals. Let us show you why we're one of only six Pantone Certified Printers in the world and how we can use this distinction to help your business succeed. Call (937)353-2299 or send us a message.