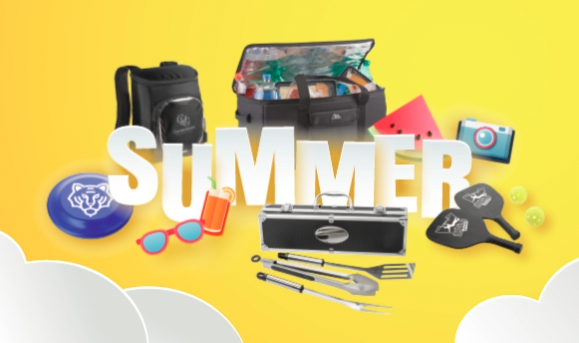 It's that time again… summertime! Time to think about family vacations, graduation gifts, employee recognition awards, customer appreciation gifts, and much more. It's a great time to look at the variety of promotional items available at Think Branded, the Think Patented promotional item division.
If you want to create a memorable brand experience, give your graduate, employee, or customer a promotional item or better yet, a promotional basket, bag, or box full of assorted promotional items related to summertime. Most customers retain the items, creating an opportunity to view your brand name over and over. Many customers show your promotional item to co-workers, friends, and peers, extending the reach of the promotional products' brand reinforcement effectiveness.
The warmer weather of summer means it's time to turn up the heat on your marketing and advertising efforts for your summer promotional campaign. Summer is full of events and activities that are excellent opportunities to promote your business or brand. Everyone is looking for something fun to do in the summer, which means an advertising opportunity is just waiting for you.
Seasonal marketing is any promotion that businesses create for certain times of the year, or sales seasons. These marketing campaigns leverage the high traffic that certain times of year create, such as summertime. Is seasonal marketing important? A lot of businesses make the mistake of overlooking seasonal marketing, but it's a particularly big oversight for direct-to-consumer (D2C) and e-commerce brands. Why? Because seasonal marketing gives consumers an excuse to spend money.
According to Socital, a company with experience building businesses from zero to profitability and maintaining offices in London, Athens, and Dubai, "when it comes to seasons, there are few other seasons that can be as effective as Summer in terms of a seasonal marketing campaign. Here are seven ideas to make a summer seasonal promotional items campaign an effective one.
1. Introduce Seasonal Phrases in Your Messaging
2. Focus On & Tighten Up Seasonal Call to Actions
3. Bring in Exclusive Summer Offers
4. Summertime Giveaways & Promotions
5. Make Use of Summer Colors
6. Refresh Your Recommendations Around Summertime
7. Plan Seasonal Campaigns Around Summertime Sports"
Summertime is also a great time to recognize the graduating son or daughter of a key customer or a key employee. You could also recognize the "top" customer who has supported your business throughout the fist half of the year, or a key employee that has contributed in a significant way.
Package summertime items such as sunglasses, ball caps, sunscreen, insulated drink tumblers, flip flops, waterproof Bluetooth speakers, koozies, lawn chairs, snacks, portable coolers, and so much more that can be placed in a backpack, bag, basket, or box. Consider more significant promotional products such as drink glass sets, porch rocking chairs, patio furniture, decanters, travel luggage, golf equipment, and many more items appropriate for executives – be they customers or employees.
Promotional products are an effective marketing tool since they allow a brand to connect with customers by engaging many senses at the same time – visual, touch, sound, and sometimes smell. They are one of the few forms of advertising that allows customers to interact with a brand on a physical level.
According to Creatopy.com here are a few tips before starting a promotion products campaign:
Set your promotional goals so you have a realistic sense of where you're headed.
Set your budget to help you prioritize your actions.
Define your target audience to know the approach you will use in your campaigns.
Choose the promotion types that are the most effective and appropriate for your goals and budget.
Start working on the key message of your campaign.
Regularly measure your campaign's results to see if it needs to be tweaked.
When choosing your marketing promotion campaign, think about your product or service's most valuable feature and start creating a plan from there, focusing on bringing that feature in front of your target audience. Your brand's individuality will contour your campaign needs: what strategies to adopt, what social influencers to contact for a partnership, or which type of social media marketing you should try as a complement to your summertime promotional campaign.
Promotional products, swag, chachkies, whatever your company calls them, are more than just a give-away item. Often, they are the first interaction your customer has with your brand, so why not make it a memorable one! You can trust the team at Think Branded to make recommendations that are on-budget and personalized for your company's specific needs. From summertime items to the latest apparel trends, high end gifts and everything in between, Think Patented is your one-stop-shop for memorable promotional products.
We are a promotional product distributor and proud member of the Advertising Specialty Institute. Promotional products, also known as ad specialties, make up a nearly $22 billion dollar industry and are used by virtually every business in America. Items like mugs, pens and t-shirts are memorable and provide a better cost per impression for advertisers than almost every major marketing effort like TV, magazines, or the Internet.
We are able to supply your company with every possible promotional product from over 3,000 suppliers. With so many unique items available, there is a huge opportunity for professionals like you to boost ROI and leave a lasting impression with your customers. Our mission is to help you create long-lasting relationships with your key clients, employees, graduates of key employees and clients, and so many others through the power of promotional products, and summertime offers the ideal opportunity. Don't miss out and leave your targeted audiences hanging when it is so easy to provide them with a bag, basket, or box filled with top quality promotional gifts and recognition items.
Put your brand on things that your customers can wear, drink from, or carry their laptop in, or just use in their day-to-day life. Promotional products are not just giveaways. They create presence and awareness, placing your brand top of mind for an extended period of time.
Looking for a creative promotional product for your brand? Check out Think Patented's promotional products website at http://thinkbranded.com/ or contact your account executive or call 937-353-2299.