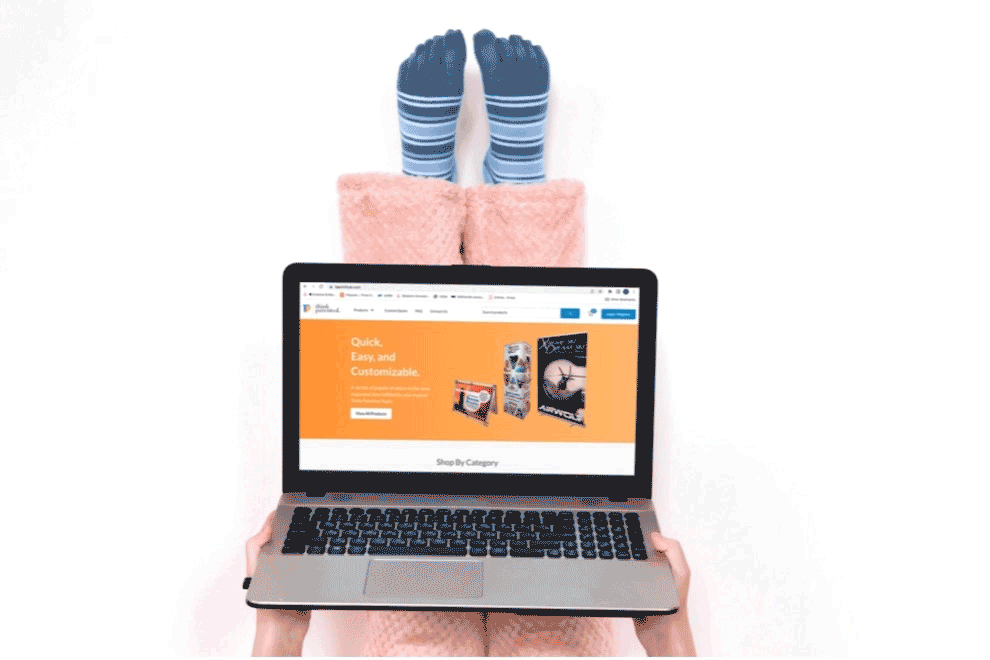 Shop in Your Pajamas on the TP Print Hub
Trade show and event preparation can be a crazy time. TP Print Hub allows you to "check off your list" with a huge selection of products, easy ordering process, and fast order turnaround.
There are many advantages to purchasing display banners and signage from Think Patented's online ordering site "TP Print Hub". Operable for two years now, the site has proven beneficial for customers who seek a fast, clear solution for their needs.
Look at some of the benefits:
Variety of Products
By quickly reviewing the many product options displayed on the site, you can find great solutions to meet your company's needs. With the variety of products on the site, you may even spark an idea for your next assignment.
Time Saver
No meetings or phone calls are needed when you order online, saving you time out of your hectic day. Review the options, select a product, upload your high-resolution PDF, and complete your purchase with a credit card.
Stress-LESS
What can be less stressful than reviewing products, making a selection, and ordering online at your convenience? Whether from the office or from your family room couch, it doesn't get much easier. Reduce the stress in your day by ordering online from the TP Print Hub.
Custom Products
Even searching for custom products is quick and easy. Don't see what you are looking for? Fill out a short form online and Think Patented will send you a response right away.
The TP Print Hub gives you access to a variety of display and signage products. It is easy to upload artwork and order turnaround is fast, so your order is ready for your upcoming event. We recognize that workdays are packed and many overwhelmed marketing executives have to burn some midnight oil. The TP Print Hub is an ideal solution that won't tie up excessive time. It has been proven to be a great "work in your pajamas" resource!
Go to TPprinthub.com to see for yourself. Of course, you can always contact your Think Patented account executive directly to answer your questions, recommend solutions, and accept your order. You can also call 937.353.2299.