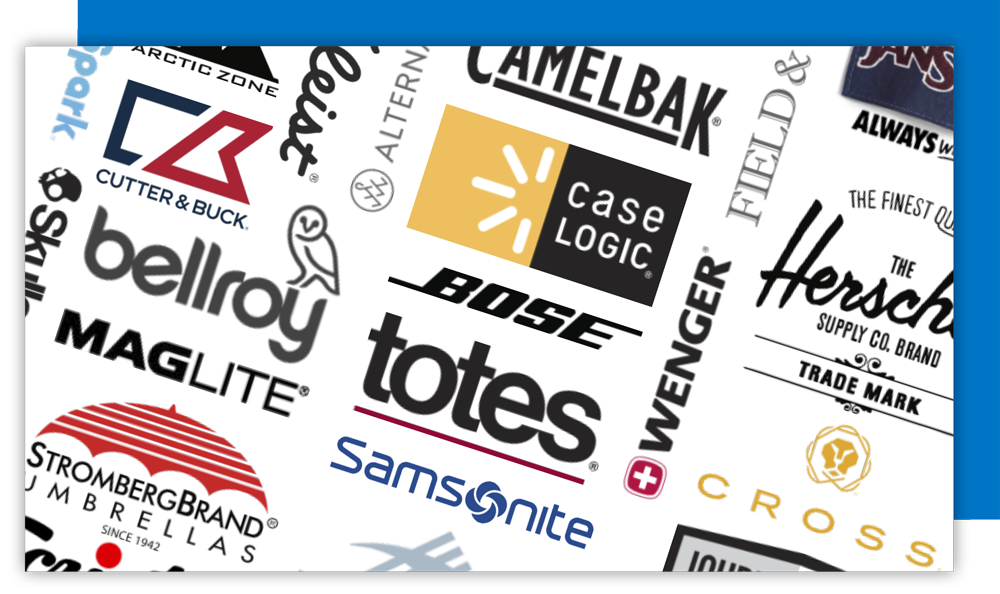 Companies are constantly looking for creative ways to stand out at events and attract top talent. One effective strategy is the use of promotional products. Promotional products are items that feature a company's logo or branding and are given away for free as a marketing tool. While often associated with trade shows and conferences, these products can also be used for recruitment fairs and even employee onboarding! From custom pens and tote bags to tech gadgets and apparel, the possibilities for promotional products are endless. In this blog, we will explore the benefits of using promotional products for events and recruitment, share some fun and creative ideas, and provide tips on how to choose the right products—and fulfillment partner—for your business. Whether you're looking to attract new customers or top talent, promotional products can be a powerful play in your plan!
Here are a few reasons why it's important to use quality promotional materials:
1. Elevate your brand: Promotional materials such as gifts help to increase brand awareness by showcasing your company's brand identity, logo, and message in a tactile way. This becomes even more impactful when you pair your logo with sought-after name brand products like the ones we offer—Bose, Untuckit, etc.
2. Engage your audience: By providing them with branded promotional materials, you can create a memorable experience that sets your company apart from the competition, reminding potential customers or recruits of your brand long after the event has ended.
3. Lead generation: Tradeshows and recruitment fairs provide a platform for lead generation, and promotional materials play a critical role in this process. By providing attendees with informative materials and promotional products, you can capture their attention and create a connection that can lead to a business partnership.
4. Cost-effective: Promotional materials can be a cost-effective way to market your brand at events. Compared to other marketing channels such as advertising or direct mail, promotional materials can be produced at a lower cost and can reach a highly targeted audience.
Did you know? A survey by the Promotional Products Association International found that 81% of consumers keep promotional products for more than a year, and 60% of consumers who receive a promotional product report an increase in their positive perception of the brand.
Events like tradeshows can be highly effective for generating sales. By engaging with potential customers face-to-face, businesses can build relationships, answer questions, and provide demonstrations, all of which can be powerful sales tools. Additionally, tradeshows often attract attendees who are actively looking for new solutions and products, making them highly qualified leads. The same can be said for recruitment fairs. By investing in high-quality booth displays, promotional materials, and lead capture strategies, businesses can maximize their potential at tradeshows and recruitment fairs. This is why any promotional materials—print or 3D—must make your organization stand out from the competition!
Top Trends for Promotional Products:
1. Personalization: Customized promotional materials that are tailored to the specific needs and interests of potential customers are becoming increasingly popular. Personalized promotional products such as phone cases, tote bags, and drinkware create a unique experience for potential customers, increasing the likelihood that they will remember your brand.
2. Sustainability: Companies are becoming more environmentally conscious, and this trend is reflected in the use of sustainable promotional materials. Promotional products made from eco-friendly materials such as bamboo, recycled plastic, and organic cotton are gaining popularity.
3. Technology integration: Technology is playing an increasingly important role in tradeshows and recruitment fairs, and promotional materials are no exception. Companies are integrating technology into their promotional materials, including QR codes, augmented reality, and digital brochures.
As you can see, quality promotional materials matter! Not only do they look more professional and visually appealing, but they also communicate a message more effectively and leave a lasting impression on the recipient. Poorly designed or cheaply made materials can reflect poorly on a business and may not effectively convey the desired message. Additionally, high-quality promotional materials are more likely to be kept and used by potential customers, which can lead to increased brand awareness and recognition. By investing in quality promotional materials, businesses can increase the effectiveness of their marketing efforts and create a positive impression on potential customers and recruits, ultimately leading to increased sales and business growth.
Promotional materials should never be a DIY job. Why? You want to find a partner who can show you examples and options, share success stories, and demonstrate knowledge of current industry and event marketing trends!
Before you order online, consider this list for picking a marketing partner:
1. Look for experience: When choosing a marketing agency, it is essential to look for experience in producing promotional materials for events. An experienced agency will be familiar with the unique challenges and opportunities presented by tradeshows and recruitment fairs.
2. Consider creativity: Promotional materials that stand out from the crowd are more likely to capture the attention of attendees. Look for a marketing agency that can bring creative ideas to the table and create promotional materials that are both informative and visually appealing.
3. Evaluate cost-effectiveness: Promotional materials can be costly, and it is essential to find a marketing agency that can produce high-quality materials at a reasonable cost. Consider the agency's pricing structure and compare it to other agencies in the industry to ensure that you are getting a fair price.
You can easily search for some of our promotional offerings here: https://thinkbranded.com/home/
Promotional materials are an essential tool for businesses looking to create a strong brand presence. By investing in high-quality, relevant, and engaging promotional materials, businesses can enhance their brand image, boost lead generation, or even create a more memorable onboarding experience for new employees! If you're planning to attend an event soon, make sure you invest in promotional materials that are tailored to your target audience and effectively communicate your brand message. 
Promotional materials should never be a DIY job! Our marketing experts can show you tons of SWAG you can hold in your hands, plus our award-winning, start-of-the-art print shop. Contact us at (937)353-2299 or send us a message.